Fanmix -- Shine [NaruHina]
April 17th, 2009 (12:33 am)
Okay, so it's been yonks since I posted here, but I come with peace offerings of music, to anyone who's interested. I'm also in the process of re-uploading all my old fanmixes, which can be found here (I should be done by tomorrow evening). I made this one a while back, & it's probably one of the happiest fanmixes I've ever made, & includes quite a few songs which I am embarrassed to have on my computer. But they fit, which is what really matters. :/

& without further ado...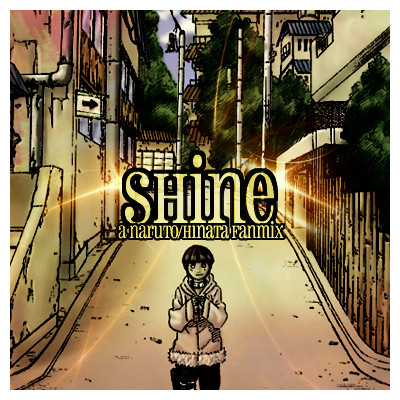 Download it in .zip format
here.
Natasha Bedingfield//I Want to Have Your Babies
What if you knew what I was thinking,
Would it make you like, "Woah!"?
I don't want to risk putting my foot in it,
So I keep my mouth closed.



3 Doors Down//Be Like That
If I could be like that,
I would give anything
Just to live one day
In those shoes.



The Fratellis//Whistle for the Choir
Well it's a big, big city and the lights are all out,
But it's as much as I can do, you know, to figure you out.
And I must confess,
My heart's all broken pieces and my head's a mess.



Sarina Paris//So I Wait
So I wait all my life,
Hoping someday you will see
That love's a lock, you're the key,
You will come and rescue me.



The Pretenders//Don't Get Me Wrong
Don't get me wrong,
If I'm acting so distracted.
I'm thinking about the fireworks
That go off when you smile.



Will Young//All Time Love
Sometimes you walk by the good ones,
'Cause you're trying too hard, too hard to see them.
And sometimes you don't find the right lines,
'Cause you're trying too hard, too hard to hear them.



The Cure//The Perfect Girl
You're such a strange girl,
I really don't understand a word.



Azure Ray//If You Fall
So this is love,
Yeah, that's a lovely thought.
You have to care for it
To keep it together.



Ross Copperman//All She Wrote
She always feels so small,
Pushed aside; a flower on the wall.
They never ask her name.
No one sees a girl without a face.



James Morrison//This Boy
This girl tries her best every day,
But it's all gone to waste, 'cause there's no one around.
This girl, she can draw, she can paint,
Likes to dance, she can skate, now she don't make a sound.



Aqualung//Strange & Beautiful
I've been watching your world from afar.
I've been trying to be where you are.
And I've been secretly falling apart
Unseen.



Avril Lavigne//Things I'll Never Say
I'm staring at my feet,
My cheeks are turning red,
I'm searching for the words inside my head.



Kelis//Lil' Star
Just keep trying and trying,
Sooner or later you'll find that
It's surprising how inspiring
It is to see you shining.
'Cause in the dark of night you're all I can see,
And you sure look like a star to me.



Blondie//Denis
Denis, Denis,
Oh, with your eyes so blue.
Denis, Denis,
I've got a crush on you.